Samuel Morse's Painting
The famous American inventor Samuel Morse manage to stun the United States and the rest of the world on May 24, 1844, when he publicly showcased his telegraph with the message that traveled Supreme Court room in the U.S. Capitol in Washington, D.C. to Baltimore with the message "What hath God wrought?". Only 17 years after that significant portion of United States was already covered with telegraph cables, and few years later North America was connected with the England by a cable laid across the Atlantic Ocean. The monumental invention in the shape of the telegraph solidified Morse's place in our history, but for the majority of his life, he was not focused on inventions and technology. From his young years, education and majority of his life, he was an artist and a painter.
Ever since his youth, Samuel Morse liked to pain and he continued this practice during his education. He attended Phillips Academy in Andover, Massachusetts, and later on went on to Yale College where he studied religious philosophy, mathematics, and science of horses. There he first interacted with physics and learned about electricity from Benjamin Silliman and Jeremiah Day. During all of his education, he supported himself by painting. After Yale, he sought a way to expand his knowledge of painting and art history. His most notable painting from that time was " Landing of the Pilgrims", in which he expressed some of the Calvinist beliefs that were imprinted to him by his father. This picture caught the eye of the notable artist Washington Allston, who invited Morse to accompany him to his trip to England. With the financial backing of his father, Morse went to England to on a 3-year study in 1811.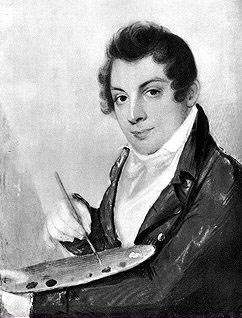 By the end of 1911, talent and exquisite detail of Morse's painting managed to get him admittance to the famous Royal Academy in London, where he explored in details art of Neo-classical Renaissance, Michelangelo, and Rafael. After much work in examining ways of drawing human anatomy, nature, and life, he finally managed to produce his first masterpiece "Dying Hercules". Because this painting was created during the short War of 1812 in which the United States and England clashed over the remnants of problems created during the War of Independence some 30 years ago, many viewed "Dying Hercules" as a picture that described the power of the United States and its people that has managed to overcome the ancient fallen empire of Britain. Because of this perception of the strong political statement, "Dying Hercules" did not bring much fame to Morse.
After returning home, Morse became aware of American unsophistication, for which purpose he created his most known picture " Gallery of the Louvre" in 1833. With this picture he managed to introduce Americans to the European art, showcasing the image of the Louvre gallery with 38 works of art, including Vinci's Mona Lisa and art from 28 European painters from 16th to 18th century. This picture remains remembered today as the crowning achievement of Samuel Morse artistic career.